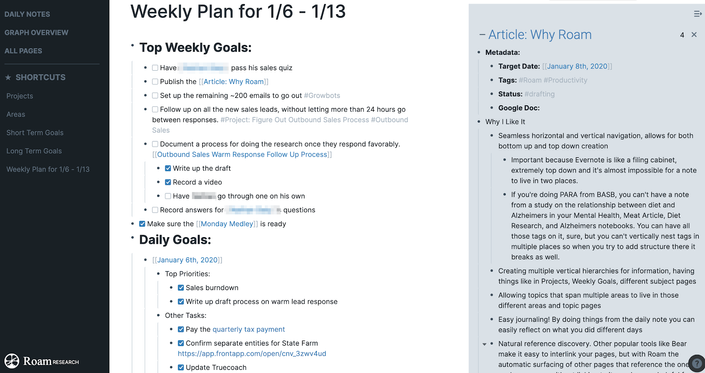 Effortless Output with Roam
Effortless Output is the best way to level up with Roam. I had I initially found Roam to be intimidating and didn't understand the hype, but after EOWR I felt like a pro. Nat includes much more than an introduction on how to use Roam — I learned much about useful mental models and daily practices as well.
I'm a little biased, but I think this course is pretty great!
When I first started using Roam Research, I liked the concept but sensed I was missing most of the value. Signing up to Effortless Output with Roam is the best decision I made. The course explained how to use the sidebar, tagging, attributes, queries and other features to add richness to my Roam graph. As a result, Roam Research has become my central notes tool. This is the first time I've been able to keep my disconnected notes in one place and build value over the long term. In addition, the course is very reasonably priced. If you're at all serious about harnessing the value of Roam Research, you should definitely sign up.
This course taught me the basics and advanced features of Roam. The lessons were relevant, helpful, and easy to follow. I would recommend it to anyone looking to learn all the important roam features. - Louis Shulman
About this course
Roam is one of the most powerful new technologies for creative output, personal knowledge management, and productivity. But, like many powerful tools, there's a steep learning curve. On your own, it might take months to fully harness its capabilities. That's why thousands of students have taken Effortless Output with Roam to skip the learning curve, quickly master Roam, and start getting more done in less time.